TRMC Announces Launch of Comprehensive Oncology Care in OUR Community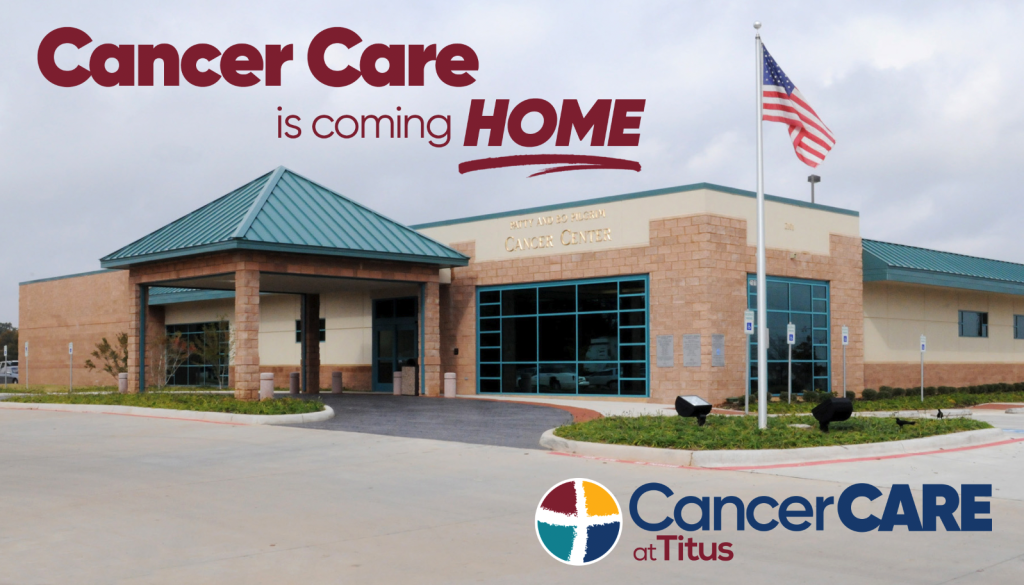 Titus Regional Medical Center (TRMC) is proud to announce the creation of a full Oncology Service Line designed to address Cancer CARE in OUR community. During the most recent regularly scheduled board meeting for the Titus County Hospital District, the Board of Managers unanimously approved $2.8 million to be invested in the Patty & Bo Pilgrim Cancer Center at Titus. These dollars will be used to purchase state-of-the-art equipment, supplies, and enhancements to the center, shifting the focus of care back home to OUR community. This service line will be known as CancerCARE @ Titus.
The development of CancerCARE @ Titus will follow the successful path created by TRMC and our Medical Staff as we have implemented multiple service lines in the last few years. These include Cardiology, Stroke, Orthopedic, and Maternal/Pediatric which have resulted in substantial improvements in patient outcomes as well as national, state, and regional recognition.
"TRMC and OUR community are fortunate to have a Board of Managers committed to investing in the CancerCARE @ Titus service line. The opportunity given us to impact cancer locally is a significant responsibility we are excited to undertake," states TRMC Chief Executive Officer, Terry Scoggin. "The medical staff and administration have invested a significant amount of planning to ensure a successful launch to this program and will work diligently to offer the same standard of excellence in Cancer Care that OUR community has come to expect from this health system."
In 2008 TRMC, with the support of the community, built the Patty & Bo Pilgrim Cancer Center and recruited Texas Oncology to provide physicians and care delivery. The relationship model used by Texas Oncology over the past 15 years does not allow the flexibility necessary to meet the needs of our community today nor does it ensure that all the care that could be provided in our community, IS provided in our community.
CancerCARE @ Titus will allow TRMC to expand the cancer services provided in OUR community while integrating those services with the hospital to provide a seamless continuum of care. CancerCARE @ Titus will have a direct line of communication with OUR doctors through every step of this journey, ensuring that the patient's primary care physician and/or established specialists are involved and participating in the care plan. Patients will have their results and care plans in one electronic medical record with the ability to access their information through MyChart while allowing our local doctors to stay more involved in their patient's care.
"I'm excited to be welcomed into the Patty & Bo Pilgrim Cancer Center @ Titus to visit patients daily and ensure the needs of these community members are being met," said Scoggin. "The merger of the center into CancerCARE @ Titus will allow us to invest in OUR community".
CancerCARE @ Titus will offer a seamless, simple process with on-staff Care Navigators assisting patients throughout their care plan all in a setting close to home eliminating excess travel during treatments. TRMC will be able to partner with local employers to create more affordable care options and access to screenings, inclusive of all segments of OUR community.
TRMC has signed a professional services agreement with Methodist Health System in Richardson enabling collaboration for advanced treatment options outside of normal offered services, access to research studies, and participation in clinical trials offering new treatments and medications.
TRMC formally invites members of OUR community to join us on June 28, 2023, at the Mt. Pleasant Civic Center for a Community Update Luncheon from 12:00 PM – 1:00 PM. Lunch and a presentation from TRMC, our physicians, Methodist Health System, and national experts on oncology health care implementation will be provided.