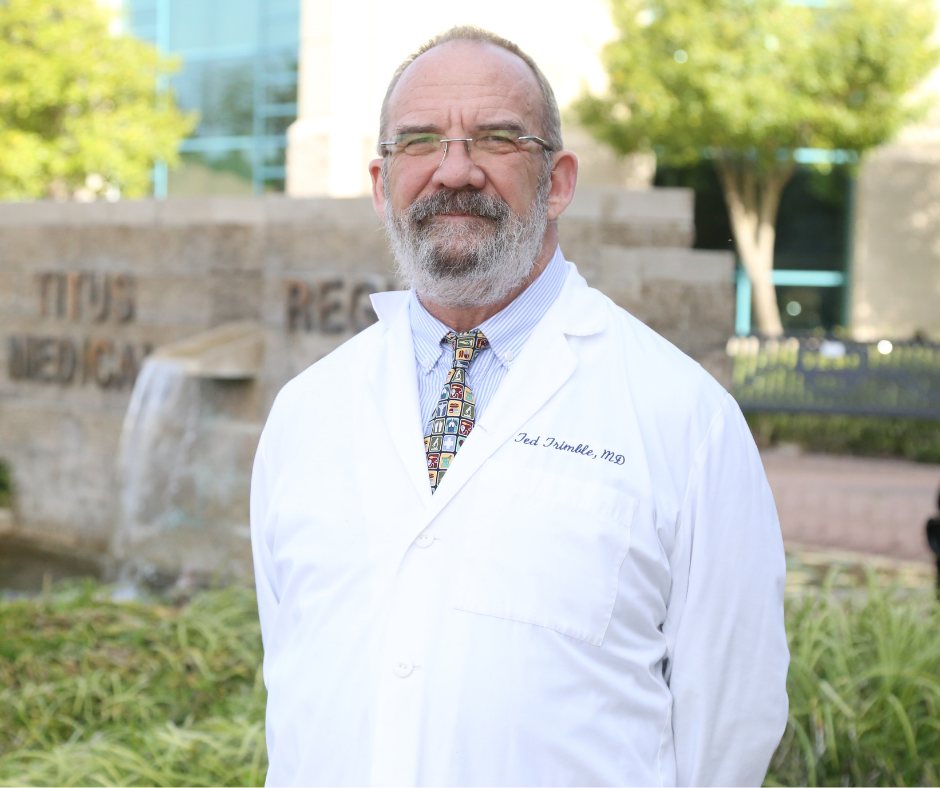 It is with our deepest sympathies that Titus Regional Medical Center (TRMC) shares the news of the sudden passing of Dr. Ted Trimble. This tragedy has been a shock to his team, our entire staff, Board of Managers, and his fellow physicians.  He was a great man of faith, of family and of medicine and he will be truly missed.
Dr. Trimble was currently serving our Morris County community through the Family Care Center Daingerfield location. He began practicing as a board certified family practice physician after graduating from the Oral Roberts University School of Medicine. In 1985, he joined his father's practice in Wylie. In 1998, Trimble moved back to Tulsa to be an attending physician with the Family Practice Residency where he had previously trained. Dr. Trimble later joined then East Texas Medical Center (ETMC) in Pittsburg and served as Hospitalist. In 2011, he moved to Linden to work for Good Shepherd Medical Associates before later joining the TRMC Family in 2018.
"Dr. Trimble was loved by the TRMC family, his team and his patients," said Terry Scoggin, TRMC Chief Executive Officer. "We lost a friend and someone who was driven to serve all of God's children. Our prayers are with his wonderful wife and family."
Our thoughts and prayers remain with his wife, Gretchen, and their children during this difficult time.
Out of respect for Dr. Trimble and his team, the Family Care Center Daingerfield will remain closed until Monday, October 18th. Those needing care can make an appointment with our Family Care Center Locations in Mt. Pleasant or Harts Bluff by calling 903-577-CARE and those needing Laboratory Services can visit Imaging Plus in Mt. Pleasant.
---
Our Mission.
To create healthier tomorrows.
Our Vision.
Your health system of choice, dedicated to healing and well-being through a culture of excellence and compassion.
Our Story.
Titus County Hospital District d/b/a Titus Regional Medical Center has been serving the healthcare needs of Northeast Texas for 65 years!
---
---
October 26 @ 6:00 pm
-
8:00 pm