Titus Regional Medical Center Auxiliary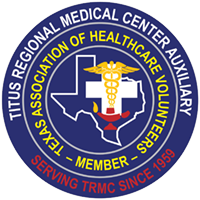 One of the most beneficial roles in the success of Titus Regional Medical Center is played by the TRMC Auxiliary. With over fifty members, this dynamic service organization generously donates more 15,000 of volunteer manpower each year.
The Auxiliary members not only selflessly donate their time, but they also donate thousands of dollars annually to help support the efforts of Titus Regional Medical Foundation. Past initiatives include the ICU waiting room renovation project and a Patty & Bo Pilgrim Cancer Center donation.
The Auxiliary provides volunteer service through the gift shop, popcorn machine, reception staffing at the information desk, surgical waiting and the Wellness Center. They also provide individual departmental support.
To learn more about making a difference at Titus Regional by donating your energy and talent through the Auxiliary, contact us at 903-577-6077.
---