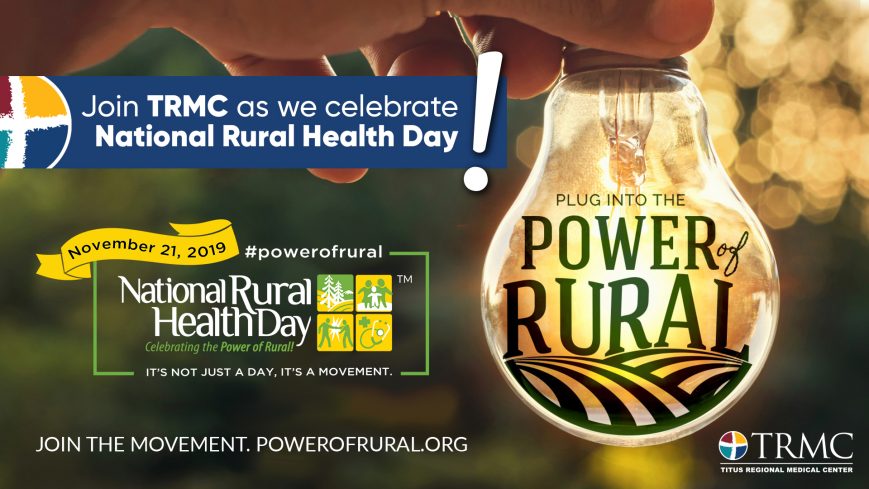 Thank you Northeast Texas! Thank you for keeping it personal!
Rural communities are wonderful places to live and work, which is why an estimated 57 million people – nearly one in five Americans – call them home. Our community is a place where neighbors know each other, listen to each other, respect each other and work together to benefit the greater good.
Titus Regional Medical Center ("TRMC") is proud to set aside the third Thursday of November – November 21, 2019 – to celebrate National Rural Health Day.  First and foremost, National Rural Health Day is an opportunity to "Celebrate the Power of Rural" by honoring the selfless, community-minded, "can do" spirit prevailing in rural America.
Our community is blessed to have over one hundred physicians and advanced healthcare practitioners support the rural lifestyle.  These providers have foregone opportunities in urban areas to practice at the next level in our rural area.  Our medical staff is taking the lead to change the health of our community.
TRMC is extremely grateful to our eight hundred employees who have chosen this health system to use their talents to make a difference.  On a daily basis, our team is committed to caring, collaborating, educating and innovating to provide the highest level of quality and safety to our patients and our community.
Our health system is indebted to the Northeast Texas community for trusting us to provide your healthcare needs for over sixty five years.  We're a rural community where everyone is known or everyone is family.  That's what makes it personal!
TRMC is proud to recognize our physicians, our employees, and our community on National Rural Health Day. The future challenges of healthcare are real and we are appreciative of our community, physicians, and staff for everyone's commitment to our success. Together we can make a bigger impact!