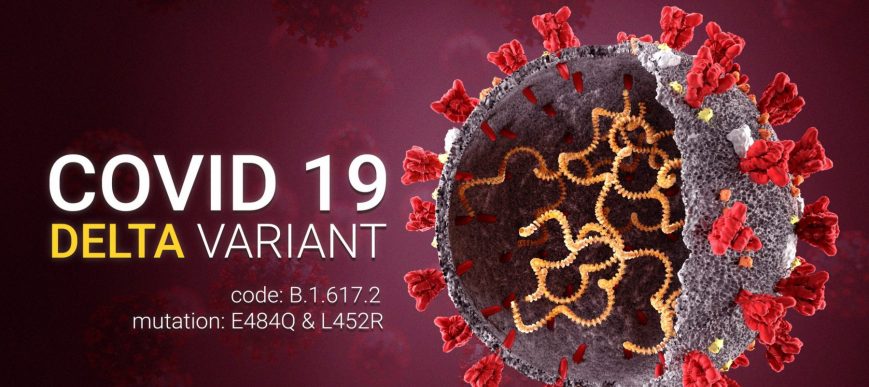 Understanding the COVID Variant "Delta"
As we enter the heart of summer and see so many restrictions fade away, it may seem that COVID-19 as we know it is slowly fading from our horizon.  However, we continue to see variants of the disease make their way into our country, our state, and affecting OUR community.
The most recent variant, referred to as "Delta", is now confirmed in 49 states.  North Texas has seen a number of serious cases, though we have not had a confirmed case in TRMC yet.  Of hospitalized patients in Texas, at least 20% of sick patients are infected with the COVID Delta virus. As in the past, we seem to lag behind the metropolitan areas surrounding us, but the variants do find their way into our health system.  It's important to understand this variant and be cautious in our behavior as we move about to help mitigate continued spread of COVID.
While this latest variant does seem to have a slightly lower death rate overall, it has proven to be 60% more transmissible than earlier forms of COVID.  It can travel further and requires less particles to be ingested in order for someone to get sick.  To add some perspective, in the past we have seen that for every 100 patients who have COVID, around 20 are hospitalized and approximately 2 will die.  With the Delta Variant, around 35 out of every 100 patients will be hospitalized and approximately one will die.  The lower death rate to most people would suggest this form of COVID would not lead to as severe of an illness.  That is not the case.  Additionally, Delta seems to be sickening younger people, ages 25-40 years of age, and the younger people are requiring hospitalization at rates far greater than the original COVID virus.
The silver lining is that both the Pfizer and Moderna vaccines seem to provide adequate protection against this variant as well as prior COVID infections.  If you haven't had your vaccine yet, now is the time.  As we enter into a holiday season with Independence Day Celebrations and summer vacations, we need to be sure we are protected.  TRMC offers a COVID Vaccine Clinic, open Monday through Thursday from 7:30am to 1:30pm.  Extended hours are offered on Tuesday, with the clinic remaining open until 7:30pm.  While an appointment is the best way to ensure you have less wait time and are guaranteed a vaccine, walk-ins will be allowed when time and supply are available.  To make an appointment, please visit www.VaccinateEastTexas.com or call 903-577-6363.  Remember, getting vaccinated may not only save Your life, but ultimately the life of a Loved One.   Let's work together to ensure healthier tomorrows in OUR community.