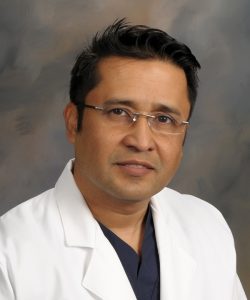 Medical Practice:

Location:
2001 N Jefferson Ave Ste 202A
Mt. Pleasant, TX 75455
Main: (903) 434-8073
Fax: (903) 434-8076

View Google Map
---
Specialty
Neuroimaging
,
Neurology
,
Neurophysiology
,
Vascular Neurology
Biography
"Dr. Khan's career in medicine began in 1996 when he graduated from Dow Medical College in Karachi, Pakistan. Upon receiving his Medical Degree and relocating to the United States, he completed an internship at Mount Sinai affiliated with Bronx VA Hospital, followed by his residency at the Oklahoma University Health Science Center. Dr. Khan then served his Clinical Neurophysiology fellowship at Kansas University Medical Center, before undertaking an additional fellowship in Neuroimaging at the Dent Neurological institute.
Dr. Khan is board certified in Vascular Neurology, Neuroimaging, and Clinical Neurophysiology, and remains a distinguished member of the American Academy of Neurology. He says that his success is thanks to his education, his emphasis on patient care, and his determination to succeed in all he does. When he is not assisting his patients, Dr. Khan enjoys spending time with his family and friends, traveling, and pursuing neurological research"
Certifications
Board Certified in Vascular Neurology
Board Certified in Neuroimaging
Board Certified in Clinical Neurophysiology